• Black & White, New Mexico Art League, Albuquerque, NM | May 2017 and May 2018
• Torso Series
This ongoing series addresses abstractions at the edge of comprehension, in the Bauhaus and
IIT Institute of Design traditions. They are digitally manipulated life drawing images. Printed with outdoor ink on banner vinyl.
Torsos: Static, Stretch, Station 30" x 16"
• Abstract New Mexico 2012 | Matrix Fine Art, Albuquerque, NM | October 2012
28 artists chosen by Sole Juror Andrew Connors, Curator of Art, The Albuquerque Museum of Art from 161 entries by 53 artists in all media.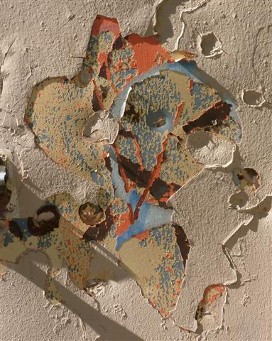 Los Duranes CC, digital photograph

**********************************************************************************************************************
• TIME PIECES: Orphan Rt. 66 Signs | 516 Arts, Albuquerque, NM | August 2012



Proposed signs with abstract avianic imagery on Rt. 66, Central Ave., in the Highland neighborhood of Albuqeruerque, NM
**********************************************************************************************************************
• PHOTO New Mexico 2010 | Matrix Fine Art, Albuquerque, NM | July 2010
1st Place Juror's Award for "1510 Wyoming NE"
Chosen by Sole Juror Andrew Connors, Curator of Art, The Albuquerque Museum of Art from 225 entries from 74 photographers